Matthew was born in Sydney Australia , July 11 th , 1968.
Second born of twins, Matt struggled for life the first week after birth but grew into a lanky, healthy child. In 1971 we moved from Australia to Virginia , USA . As a military family we were moved around every few years when his Dad's military postings changed. In 1973 we relocated to central Texas and then to Germany when Matthew was 9. After three years in Europe the family was again moved back to central Texas and then to west Texas where he attended San Angelo High School. After he and his twin brother graduated from High School we moved finally to Phoenix AZ. This lifestyle made it difficult to maintain longterm friendships and to put down roots, something I know Matt missed in spite of all the advantages of travel. Matthew began college but was really only interested in rock music and for the next 10 years or so sang with several bands, some of which he formed himself. I only remember two, River Runs Red and Toxic Shock, but there were others. Around 1987 he returned to Australia where he worked and sang with Toxic Shock band for three years eventually returning to AZ around age 22.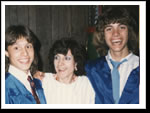 A few more years of the Phioenix summer heat and lured by his love of the ocean and cooler weather Matthew moved to San Diego . Some time later his friend and fellow musician Stan invited Matthew to join him in Maui . Matt immediately fell in love with Hawaii , the ocean and the lifestyle. He and his brothers had been competitive swimmers from age 6 or7 and swam with clubs in Europe and the USA so Matt had developed a love of the water, especially the ocean and was a powerful swimmer. At age 12 he had set a record for the backstroke for his age group and was written up in Swimmer's World magazine.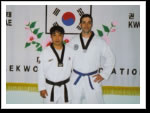 When Matthew had the opportunity to travel to Korea with a touring Rock band, he jumped at the chance to see another part of the world. Here he first met his wife Betty when they were both working at the same English academy in Seoul. While in Korea he became interested in the martial arts and in his usual fashon devoted himslef to study to learn the disciplines of Taekwando, attaining the level of Black Belt . After he finished his teaching contract at the Academy Matthew returned to Hawaii but he continued a long distance relationship with Betty. They were married on October18, 2001 and settled in Maui where Matthew attended college. They moved to Honolulu where they worked for a year or two while Matthew completed his degree in Sports Science. After graduation in December 2005, Matt and Betty moved back to his favorite island Maui, in February 2006.
Matthew was always a sweet, kind, and helpful child the first one to offer to help. He took on a paper route at age 11 and with the money he earned he purchased a gift for Mum, a plaque of praying hands that says "The family that prays together, stays together." This gift I still have and will treasure always. Matt never forgot birthdays and always remembered Mother's Day and Father's day. He was unfailingly gentle, kind, obliging and cooperative, hard working and fanatically neat! Matthew was very bright and an excellent student who achieved a fine academic record.
His love of swimming, particularly the ocean, continued all his life. He became a proficient triathlete competing in events all around Hawaii. Matt competed in his last Triathlon in May 2006 when he recorded a personal best time. He left this world right there in the ocean. Dale, a very close friend of Matthew, said "Matt swam into heaven"- where I will see him again some day.
Matthew never shirked anything- he gave his all to everything he did and always pushed himself to further excellence. He was one of the most loving of men and a great encourager of others always exhorting them to personal improvement and ever willing to help them to be the best they could be. He was a bright, shining star that blazed in our lives for all too short a time.
He is missed beyond belief.
~Roslyn Atwood, Mother of Beloved Matthew
About Matt - By Betty

When he was 32, he came to Korea and met me at the English school. We were co-workers. We were dating for about a year then got married. It's been 5 years this October.
Between dating and marriage, we were apart for about 5 months. He had to come to Maui and I had to stay in Korea. It is really difficult For A single Korean woman to get the visa. So Matt came back to Korea , Helped me with visa process and brought me here, Hawaii. When we were apart, we talked over the phone every night. We both missed each other so much so Matt flew back to Korea to get me. Since then, we were best friends. He does Tae-Kwan-Do (martial arts), he got black belt from Korea. He studied Korean language in Korea and Kapiolani community college. So we speak Korean to each other a lot. He loves Korean culture and food. He works out a lot and is a Triatthete. One of his dreams is organizing his own Triathlon competition. (Like a Matthew's triathlon)
~ Betty Atwood